About Our Logo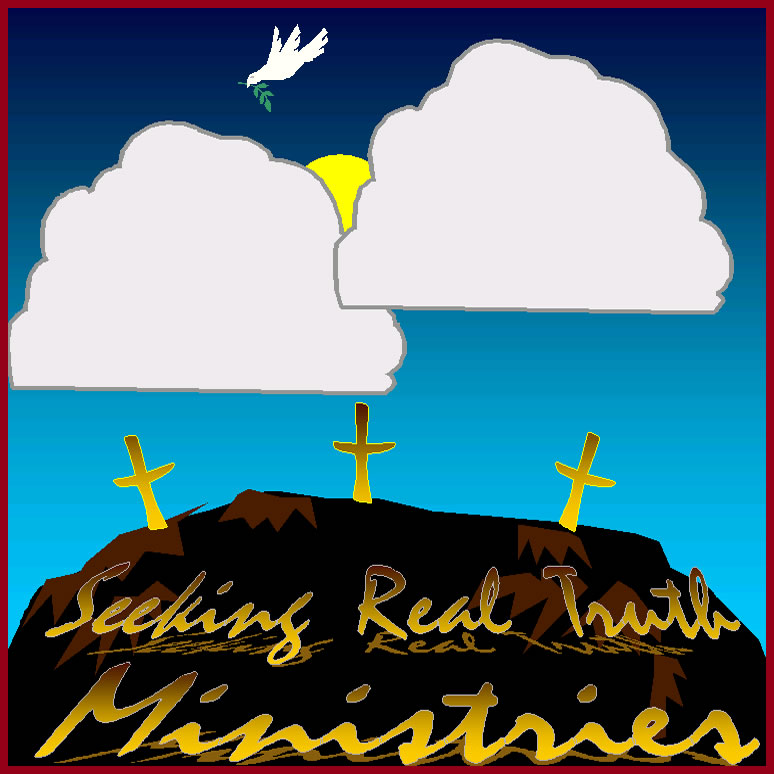 Click Logo To See Flash Version
Three empty crosses on a hill. The sun peeking through the clouds. A dove coming down with an olive branch in its beak. A crimson border. Gold lettering with burnished effect. In designing our logo, we wanted something that clearly represented the good and awesome work our Lord has done for us, and continues to do today.
Jesus Christ's life on earth was the fulfullment of all Old Testament prophecy. He IS the Messiah the world was waiting for. But those who did not believe put him to death on the cross. They were so vehemently opposed to his truth, GOD's truth, they reacted with extreme violence. Again, a fulfillment of prophecy.
On the third day, Jesus rose from the grave and appeared to his disciples; not only the remaining eleven (for Judas Iscariot had already committed suicide and was burning in hell), but to many others as well, including Mary Magdalene, Mary the mother of Jesus, Simon the Cyrene, and others. That he was able to rise from the dead on his own without any intervention from anyone else proved he IS God, and that all authority has been given to him. He defeated death for us, so that we don't have to go through it. The death that he defeated is not only the physical death we will experience unless he returns before our time on earth is over, but more importantly he defeated spiritual death which is eternal separation from God.
When Jesus spoke the words, "My God, my God, why have you forsaken me?", he experienced the separation from God that we ought to face. He did not sin. He lived his life in perfect obedience to the Father, as we are supposed to. But we cannot, for we are steeped in sin from birth. He was incarnate of the Holy Spirit of a virgin, therefore he is indeed the Son of God. He allowed himself to experience hell (separation from God) so that we don't have to.
Forty days after he rose from the grave, he ascended into heaven in the presence of his disciples. What a glorious sight that must have been. The disciples worshipped him after he ascended, then suddenly they were no longer afraid to speak about Jesus and who he was, what he did, what he accomplished for us (Acts 2-4 has some good sermons about Jesus). Before Jesus went into heaven in the sight of his disciples, he gave the commision found in Matthew 28 to make disciples of all nations, baptizing them in the name of the Father, and of the Son, and of the Holy Spirit.
So when we look at the logo, we are reminded of the sacrifice Jesus made to reconcile us to God. We are unable to fully keep God's law. Jesus did that for us. He was the final sacrificial lamb, pure and spotless, for there can be no forgiveness without the shedding of blood. He established the New Covenent between God and us through his vicarious death on the cross (Matthew 26:28).
The crosses are empty because as Jesus said, "It is finished" (John 19:30). It IS finished. Let us never forget the love God the Father had for us, that he gave his only son to die for us, to save us from our sins. May those who are not believers and who visit this site know that the Lord is knocking on the door, and is walking into their hearts. May they not turn away from him, may they not reject him. May they instead receive the gift the Holy Spirit is giving to them, and may they praise and give thanks to the Lord for what he has done.
The sun peeks through the clouds to remind us that the Son will come on the clouds when he returns. For now, we can catch glimpses of him in the signs of the times (Matthew 24-25).
The dove represents the Holy Spirit, who gives us the ability to believe. The olive branch represents the peace that only Jesus can give. John 14 27Peace I leave with you; my peace I give you. I do not give to you as the world gives. Do not let your hearts be troubled and do not be afraid.
The crimson border represents the blood shed by Jesus as he died on the cross to save us from our sin.
The gold lettering represents the richness of God's love and blessings to those who believe and who walk in full obedience to him. The burnished effect represents the fact that we have been fully refined through faith in Christ Jesus.
You do not have to do anything to accept the gift of eternal life. You don't even have to accept it. But you do need to take a specific action to reject it.
Romans 10 17Consequently, faith comes from hearing the message, and the message is heard through the word of Christ.
Ephesians 2 (Made Alive in Christ) 1As for you, you were dead in your transgressions and sins, 2in which you used to live when you followed the ways of this world and of the ruler of the kingdom of the air, the spirit who is now at work in those who are disobedient. 3All of us also lived among them at one time, gratifying the cravings of our sinful nature and following its desires and thoughts. Like the rest, we were by nature objects of wrath. 4But because of his great love for us, God, who is rich in mercy, 5made us alive with Christ even when we were dead in transgressions--it is by grace you have been saved. 6And God raised us up with Christ and seated us with him in the heavenly realms in Christ Jesus, 7in order that in the coming ages he might show the incomparable riches of his grace, expressed in his kindness to us in Christ Jesus. 8For it is by grace you have been saved, through faith--and this not from yourselves, it is the gift of God-- 9not by works, so that no one can boast. 10For we are God's workmanship, created in Christ Jesus to do good works, which God prepared in advance for us to do.
Do not be deceived into thinking you must accept him. The truth is, you must not reject him. The act of rejecting is the sin that makes one place him or herself above God. But we need to do nothing to receive the gift. It is freely given, and to say we must act to accept it is sinful. There is nothing we can do to recieve the gift. It is placed into our heart - we don't take it and put it there. But since God has given us the gift of free will, we can decide to turn away from it. Our prayer is that all who visit this site will not reject the gift and turn away from it. For clarification of this go to "The Gate."